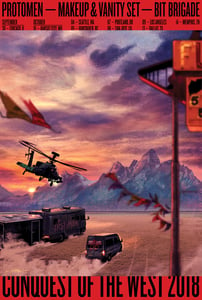 $

10.00 - On Sale
*ALL ORDERS PLACED 3/7/23 - 3/28/23 WILL BE PROCESSED 4/1/23*
Poster for Fall 2018 tour with Protomen, Makeup And Vanity Set, and Bit Brigade. Available with or without all 3 bands' signatures!
We printed 500 of these for the tour and the ones that didn't sell are only available here. Once they're gone, they're gone.
Measures approximately 11" x 17"
If you want to add INSURANCE and/or TRACKING, click here.
Availability
Regular poster - 96% in stock

Signed poster - 70% in stock