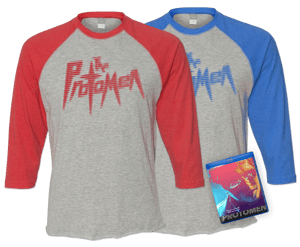 $

45.00
Has these "Protomen - Live in Nashville" items:
- Blu-ray (runtime - 98minutes)
- Act I Logo Raglan Shirt (Red or Blue)
- Video Download (HD and optional higher-res 10gb file with Chapters)
Just choose your preferred shirt color and size below.
Show info: Act I Vinyl Release Show - July 9th, 2011 - 12th And Porter
Track list at the bottom.
**Did you pledge to The Protomen's 2011 Kickstarter project? If so, click here and contact us.**
If you want to add INSURANCE and/or TRACKING, click here.
--------------------
-Track List-
01. Intro
02. How the World Fell Under Darkness
03. Breaking Out
04. Keep Quiet
05. Light Up the Night
06. The Fall
07. Here Comes the Arm
08. Hope Rides Alone
09. Funeral For a Son
10. Unrest in the House of Light
11. The Will of One
12. Vengeance
13. The Stand (Man or Machine)
14. Sons of Fate
15. Kilroy Speaks
16. Father of Death
17. The Hounds
18. Thanks
19. Due Vendetta
Availability
Red Small - 0% in stock

Sold Out

Red Medium - 85% in stock

Red Large - 95% in stock

Red X-Large - 97% in stock

Red XX-Large - 0% in stock

Sold Out

Red XXX-Large - 100% in stock

Blue Small - 100% in stock

Blue Medium - 95% in stock

Blue Large - 96% in stock

Blue X-Large - 95% in stock

Blue XX-Large - 97% in stock

Blue XXX-Large - 99% in stock